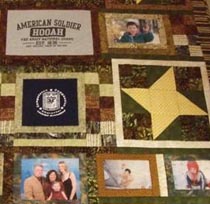 In late February, 2009 Michael and I attended the California Gold Star Families event at the marines' Memorial Club in San Francisco . For that event Michael & I made a "Life Quilt" to celebrate Rhys' short but honorable life.
We have been asked to post the pictures of the memorial quilt. Since there is a story behind it I decided to make a special page just for the quilt. Quilts like this one seem to take on a life of their own, because each picture is a chapter in Rhys' life, even the t-shirts we used in the design all have their own story. I hope you enjoy it and if we ever meet I would love to share with you the stories behind the pictures.

Lynn is an accomplished writer and business professional with a BA in English, an MBA, and JD degrees from prestigious Universities. Lynn has worked in the construction industry for 35 years.
She is also the mother of an American Hero. Her only child, Sgt. Rhys W. Klasno was killed in action on "Mother's Day," 13 May 2007 in Haditha, Iraq. Read her
American Hero Tribute Blog
and check out her
Roofing Solutions Wonderkid Blog